Another trip to Adigrat! We arrive to find a well-functioning kindergarten full of happy children. At the moment, two young volunteers from Germany are here to help for the next four weeks. We have brought with us 46 pairs of second-hand kids shoes, enough for almost half the children to receive a pair. Most of the children here wear plastic sandals, either too big or too small and often old and in terrible condition. The children are delighted with their new shoes and so are the mothers who come to collect them at the end of the day.

We travel to Mekele to buy a printer. As the administrative workload has grown, this is absolutely vital. While we are here, we have the opportunity to kickstart the new Adigrat Vision project, i.e. providing material and support to the Mitsae Werki school, close to our kindergarten. With 1,000 students, this school is in desperate need of tables and benches for their classrooms, as well as pedagogical support and teacher training. Some of our kindergarten's former students are here, in first class – the teacher is very proud of their excellent performance. In conjunction with Hailemelekot, the association is hiring a qualified pedagogical supervisor to organize and lead this new project. The association is continuing to pursue the idea of supporting interested mothers with practical training in handcrafts.
September 2014: Adigrat Vision e.V. becomes recognized as an international NGO!
April 2014: Trip through northen Ethiopia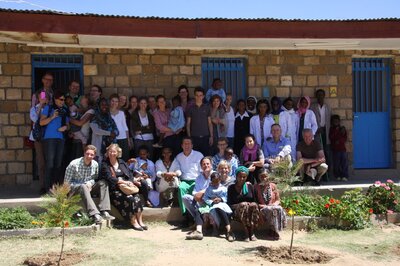 Twenty- five adults, teenagers and students visited the northern part of Ethiopia in the easter holidays. The members of the Adigrat association finally wanted to see the famous places of cultural and natural interest with their own eyes and motivated also friends and supporters to join them.

One of the trip´s highlights was visiting the kindergarten on the Satuday before Easter. The children, visibly impressed by such a big group of visiters, greeted us with songs and many rhythmic welcome-cheers. Their former shyness was completely gone, the children ran towards us, wanted to be picked up and to play with us.

In the meeting with many oft he 110 mothers, the impressed visitors could see, how thankful and happy the Ethiopian families are, that their children can attend Adigrat Vision Kindergarten. Some of the mothers couldn`t come because of the preparations for Easter, a very important celebration. Many of them now have an occupation, because of their children´s full-time day care. They are especially happy, that their little boys and girls are allowed to learn, get two meals and can improve their health and hygiene.
After the departure of the big group, Annette Weltz and Andrea Barth stayed another four days in Adigrat and spent a lot of time in the kindergarten. Everything is in very good shape with a comfortable routine, nevertheless, there are things to be improved. Therefore we try to enrich the children´s meals with vitamins and to introduce more variety, and also to increase the cleanliness and hygiene in the whole kindergarten.
The new playground with sandbox is a big success and is used very often. The watertank works reliably and bridges the periods when there is no water.
This year the association is planning more projects which aim to support women and mothers on their way to independence.